Check out this stunning waterfront masterpiece at 37 Star Island Drive! Feeling fancy? This Miami Beach gem in the Star Island community could be yours for a cool $37.5 million. Owned by Yale R. Brown, a big shot in the business world as the prez of IMS Ventures and the managing partner of Columbus Ventures.
This house is huge – 12,374 square feet huge. And the yard is pretty nice too. This spot is the real estate equivalent of winning the lottery – 100 feet of prime waterfront real estate with jaw-dropping views of Biscayne Bay. This swanky property gives you VIP access to the bay and ocean, so you can live that Miami beach life to the fullest.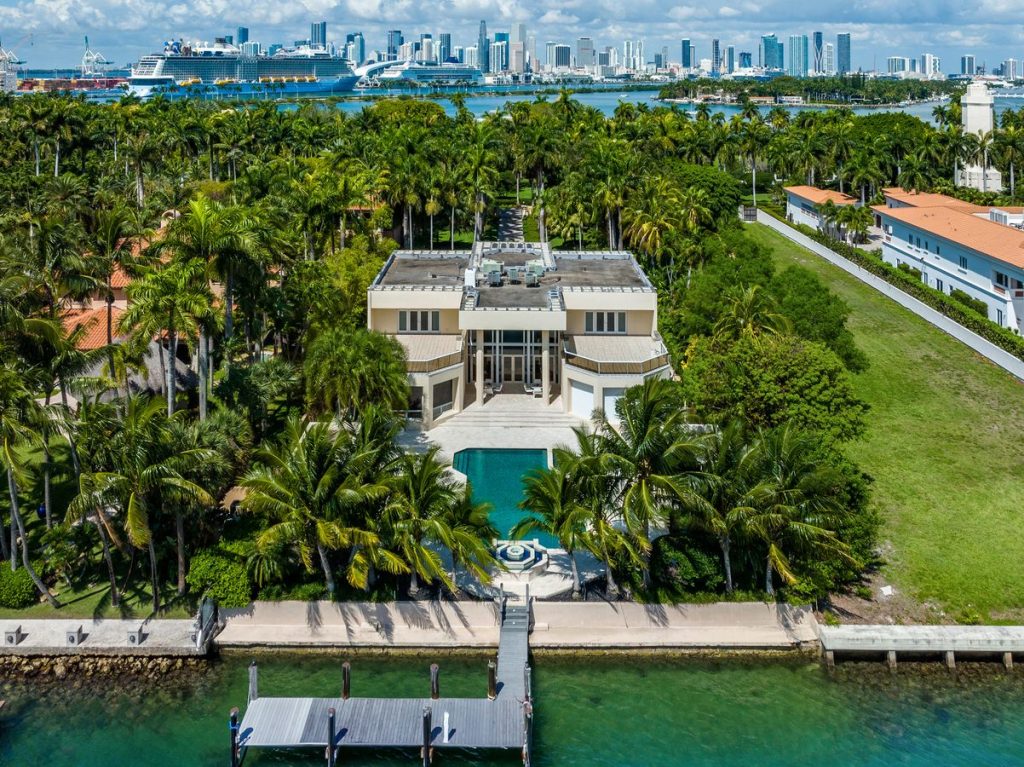 Want to live like a star? This $37.5 million waterfront estate on Star Island can make it happen. This home is the perfect marriage of beauty and skill. Prepare to be wowed by the sleek and stylish design of this stunning home, where every detail exudes sophistication and elegance. Fancy woodwork and snazzy octagon ceilings make this place feel super fancy.
Prepare to be swept off your feet by the grand entrance – a stone-paved driveway flanked by regal palms and lush gardens. A fancy water feature with fountains elegantly flows next to the driveway, guiding you to the front door.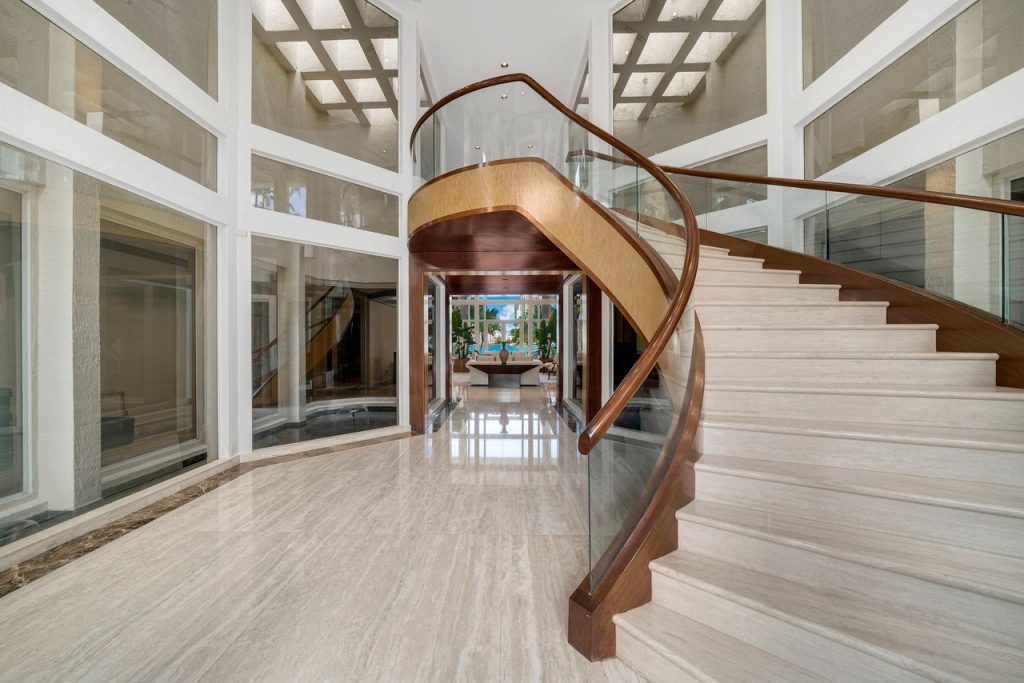 This estate has enough bedrooms and bathrooms to make your head spin!
Enter this stunning foyer and prepare to be wowed by the 30-foot ceilings and captivating rotunda ceiling accent. The foyer's glass walls are like a welcoming hug to the outside water feature. This swanky staircase is the real deal – mahogany and travertine, hand-carved to perfection. It'll take you up to a sweet seating area with killer views of the living room, pool, and bay.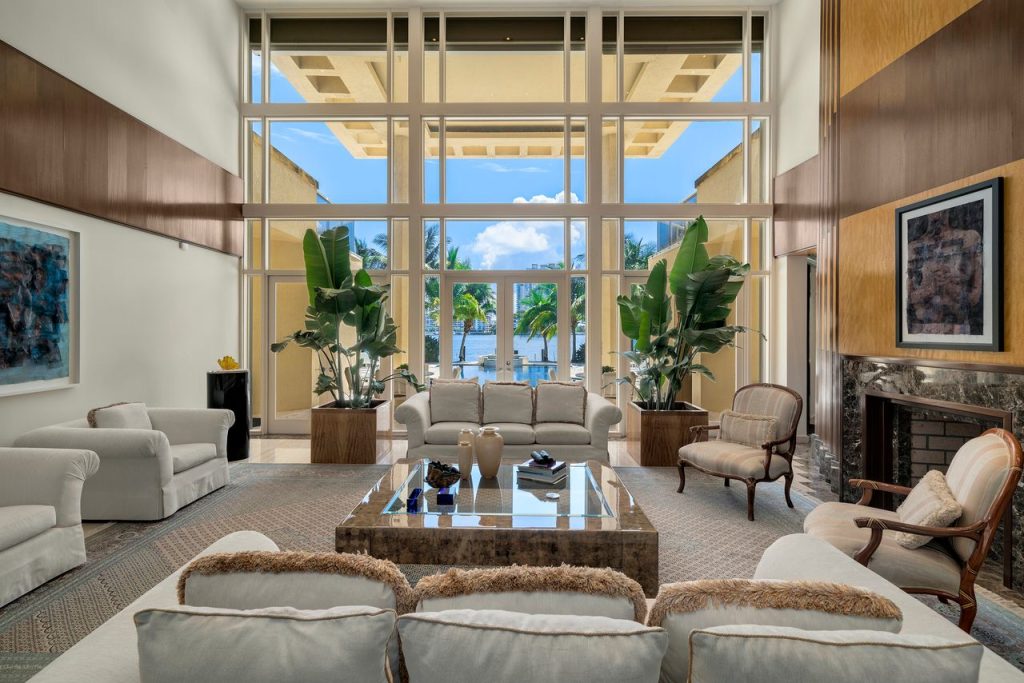 Talk about living large! This formal living room is seriously impressive with its 30-foot ceilings. Lots of sunshine and a fancy fireplace make this place look real classy. Step out onto the covered terrace for some stunning pool and bay views.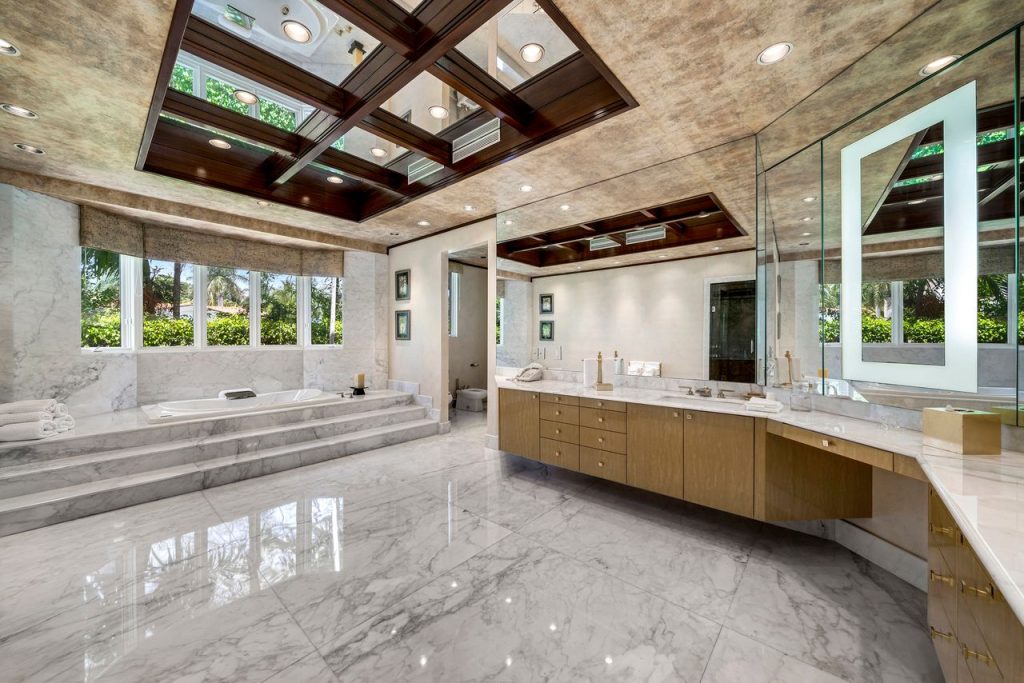 Foodies rejoice! The chef's kitchen is a culinary paradise. This kitchen has got it all: fancy granite, a cooking oasis, and appliances that make cooking a cinch. Got food? No problem! Our pantry's got your back with plenty of space to spare. Feast your eyes on the luxurious butler's pantry, breakfast nook, and elegant dining room – all conveniently located next to the kitchen for your culinary pleasure.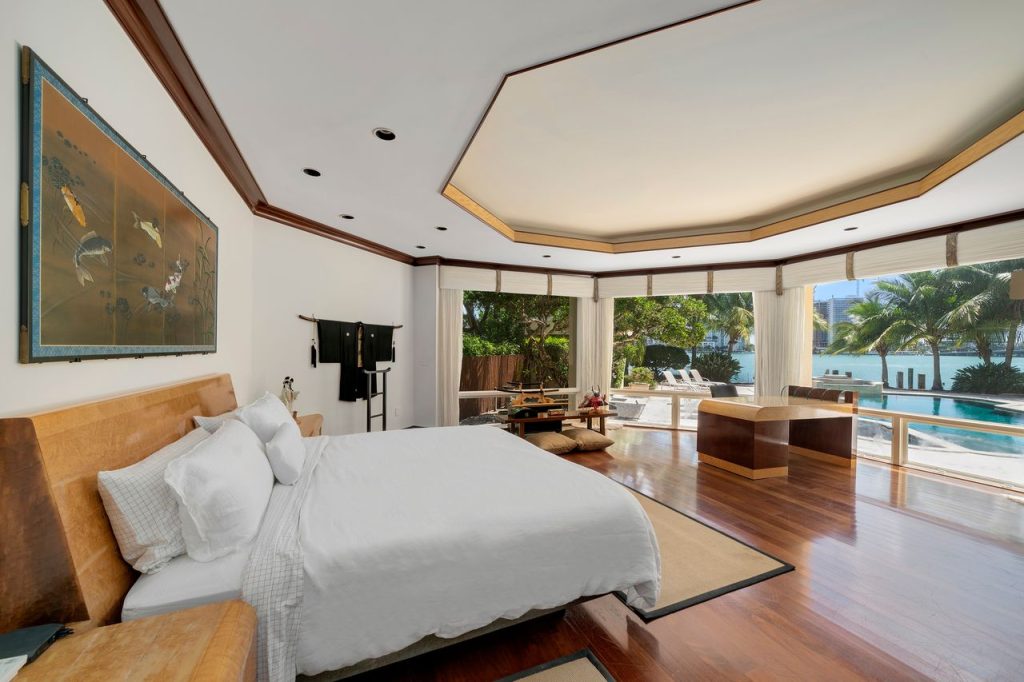 Step right up to the impressive array of features on the first floor of this magnificent residence! This place has it all: a swanky media room, a fancy-schmancy mahogany office, a cozy staff quarters, and a laundry room that's fully loaded. This property has got the power (three-phase, to be exact) and even has a secret spot for a back stairwell and elevator shaft. Elevator party, anyone?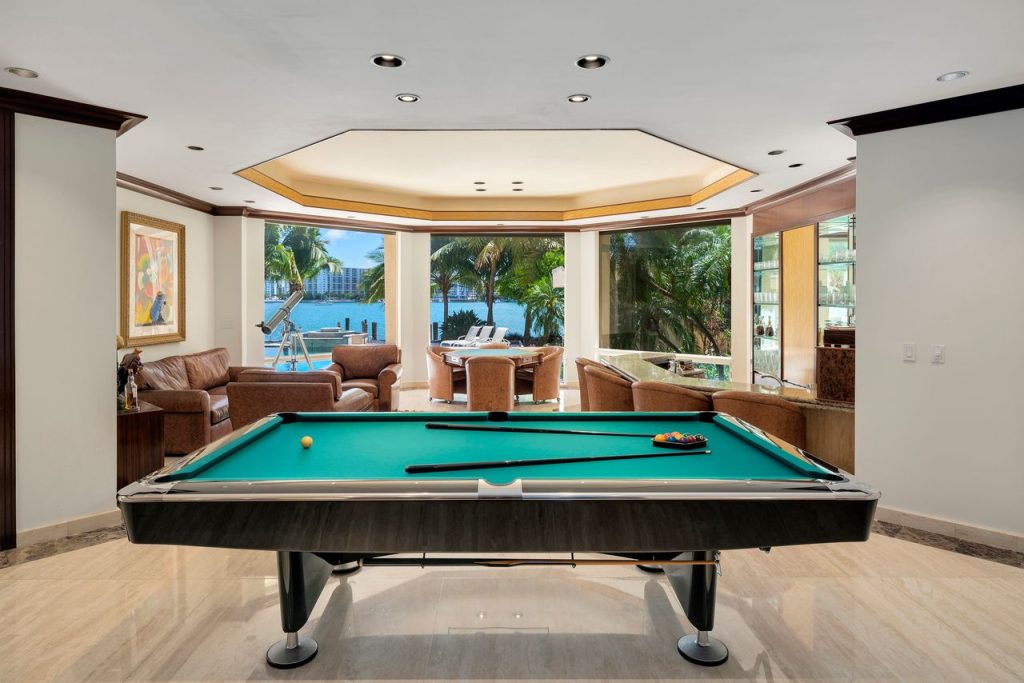 Talk about living the high life! The principal suite on the first floor is fit for royalty. Get ready to take a dip with bay views right at your fingertips thanks to floor-to-ceiling windows! The suite has got you covered with remote-controlled blackout/hurricane shutters. Get ready to party all night with a midnight wet bar and keep your wardrobe in check with dual walk-in closets featuring custom built-ins.
The dudes' loo in the suite is swanky AF with marble floors, a fancy wood vanity, and a big ol' rain shower that's perfect for sharing (with steamy options on both sides). The ladies' room is fancy AF with marble floors, a maple vanity, a mirrored ceiling, and a Jacuzzi tub.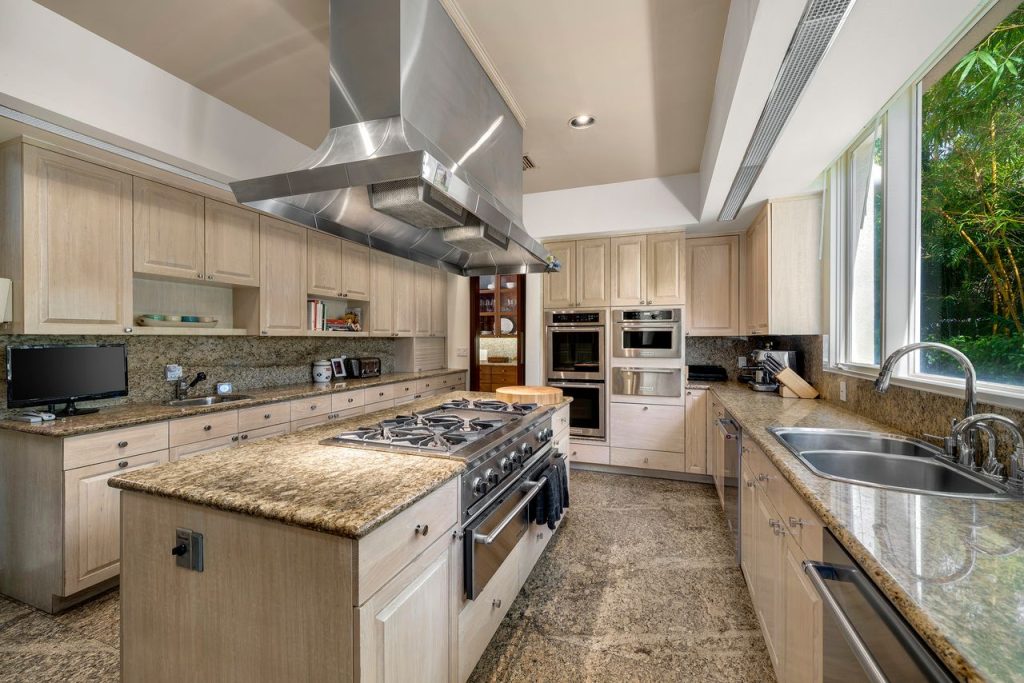 Four fab guest suites on the second floor, complete with full en-suite bathrooms, high ceilings, walk-in closets, and oversized "Plaza Deck" terraces. Two suites face east for pool and bay views, while the other two face west for a cityscape.
The property's exterior boasts some seriously impressive features. Dine al fresco on the terrace before taking a dip in the pool! The pool's got some serious heat and a fancy cleaning crew. Grill, chill, and watch TV at the poolside kitchen/bar. This outdoor space has it all: a fountain, Jacuzzi, lush palms, tropical flowers, plants, and a Japanese Zen garden. No need to hold it in, the cabana bathroom is just a splash away!
This property's got a 40-foot dock and all the electric and water you need to park your big boat. This house has it all: a fancy SOPREMA roof, a garage that's air-conditioned and stain-resistant, plus extra parking for all your fancy cars. This house runs on a beastly 45-kilowatt natural gas generator.
This estate is living its best life – just minutes away from all the hotspots in Miami! Star Island: where the homes are exclusive and the gates are ultra-private. It's the Miami neighborhood everyone wants to be in.